Here are some tips for you guys, for those who
were and are in a relationship.
make sure your relationship would end with marriage
and bless with a lot of kids!hehe~
*gatal mode*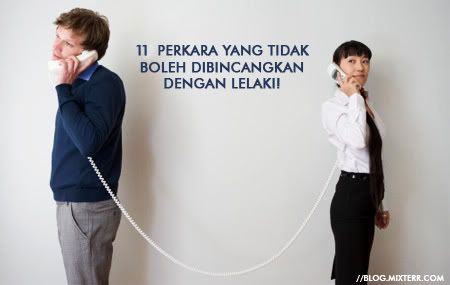 Bukan mudah untuk membina hubungan yang terus bahagia. Kadang-kadang pertanyaan dan jawapan membawa padah kepada si pasangan. Jadi, hati-hatilah soal apa yang harus dan tidak harus diceritakan kepada pasangan anda. Ada beberapa tips yang perlu kita tahu:
Jangan buat lelaki patah semangat terhadap pekerjaannya. Sebaliknya cubalah membantu.

Janganlah hendak diperbesarkan jika pendapatan anda melebihnya. Boleh menyinggung perasaan dia beb!

Jangan membandingkan dia dulu dengan sekarang.

Benci ibunya.

Jika ilmu kamu lebih darinya, janganlah cuba mengajarnya melainkan dia ingin belajar dari kamu.

Jangan cerita tentang keburukan kawan baik lelaki itu. Kawan penting bagi lelaki.

Jangan cerita tentang ada lelaki lain menyukai kamu atau ingin mengenali kamu.

Kadang-kadang cerita tentang kawan lelaki kamu membuat dia cemburu dan kurang senang. So kurang-kurangkanlah yer.

Perkataan cerai atau putus. Memang satu perkataan yang lelaki tak boleh dengar. Eloklah kamu hindarkan.

Jangan cerita tentang keburukan pasangan anda. Lelaki juga sensitif. Jika perangai atau kelakuannya, bincanglah secara lembut.

Sebut tentang bekas teman lelaki. Ini pedih bagi lelaki.
Kata-kata yang diucapkan sembarangan dapat mewujudkan perselisihan. Kata-kata yang kejam dapat menghancurkan suatu kehidupan. Kata-kata yang diucapkan pada tempatnya dapat meredakan ketegangan. Kata-kata yang penuh cinta dapat menyembuhkan dan memberkati.




these tips are from one blog that i've found - just came across to this one,

and it's interesting, right?

come on people, leave some comments. *menagih kasih*

so far, there is only Syed who

posts one comment to my blog.haha.funny.

tata!have fun ;DDD










alif satar- jangan nakal.

"please.please.please.

kamu jangan nakal"

:P




p.s: join adik tiga tahun yang gilakan lagu ni sangat2.huhu.

- wanita di luar sana, jangan nakal sangat ye? ;D
Sila LIKE! XD